Students, Graduates, and New ODs Supported Through Continuous Learning and Development at FYidoctors
FYidoctors is proud to support over 600 expert optometrists and over 3,000 team members across Canada. More and more optometrists, opticians, and professionals are choosing to work at FYidoctors for several reasons. To name a few, access to cutting-edge, state-of-the-art optometric equipment, and the proper online and physical training tools to develop the next generation of eye care professionals. FYidoctors philosophy for learning and development shines through with a strong internal network of coaching, mentoring, and professional guidance.
FYidoctors has created its own programs, courses, and unique learning opportunities which have helped them attract top talent in the eyecare and eyewear industry. A few are explained below:
Certified Eye Care Professionals Credentials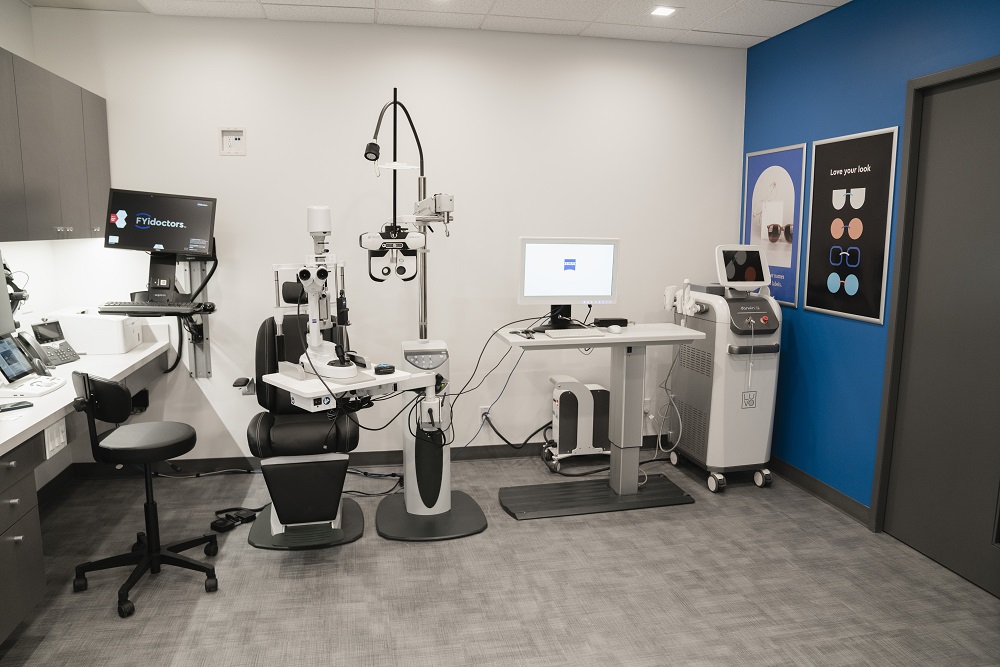 FYidoctors | Visique (Quebec arm of FYidoctors), has developed the Certified Eye Care Professionals (CECP) program for those who wish to elevate their eye care skills. It involves detailed onboarding for individuals new to the eye care industry, such as structured learning, understanding practical skills derived from peer instruction, and training through theoretical and practical learning.
Hear a few testimonials from FYidoctors team members about the CECP program:
"We're fortunate to offer this tailored program to team members in our organization," shared Laureen Luchka, Learning and Development Specialist, Lead of FYidoctors Certified Eye Care Program. "I've seen a growth in confidence, expertise, and teamwork in participants in clinics across the country."
Leah Chiuppi, a Practice Coach (Clinic Manager) at FYidoctors in Prince George, BC., agrees sharing "The education gave me confidence and I gained a ton of understanding of all the clinic roles and team members responsibilities. It is a great mix of online and hands-on learning and has helped me better support my team members and doctors."
"I think it has helped to hold team members more accountable," says Janet DeMarce, Practice Coach at FYidoctors in Brandon Town Centre in Manitoba. "They cannot just say, "I don't know" — this course gives them more confidence, empowers ownership, and you can see it show during their interactions with patients."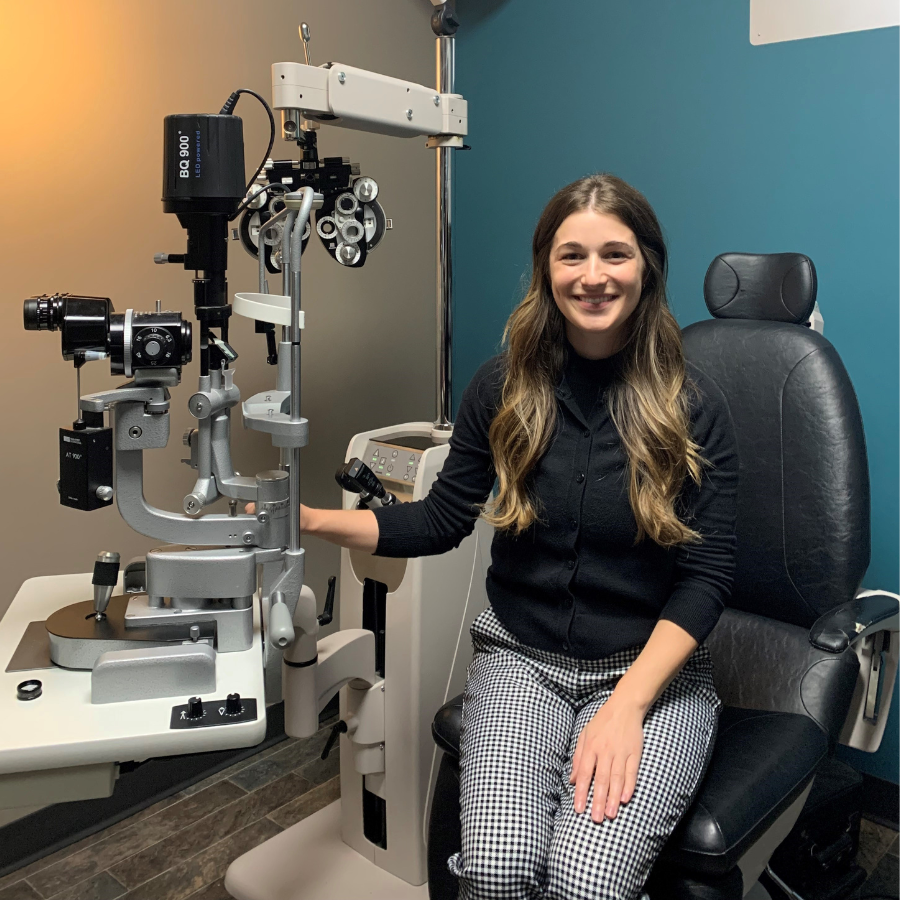 Awards, Simulation Programs and On-site Experience for Optometry Students
FYidoctors invests in students at every level of their optometric education journey. From awards and financial aid to simulation technology and on-site experience, students can access support throughout their academic careers:
TheFYidoctors Academic Leadership Award is valued at $1,500. It is honoured to full-time undergraduate students enrolled in their third year of studies in the School of Optometry & Vision Science at the University of Waterloo.
The FYidoctors Clinical Leadership Award, valued at $3,000, is awarded yearly to full-time undergraduate students in their fourth year in the School of Optometry & Vision Science at the University of Waterloo.
FYidoctors Simulation Labs let students practice in a distraction-free setting, helping them reach course milestones in a self-paced, modular system that uses state-of-the-art technology like Eyesi Slit Lamp simulators. Over a million dollars has been invested by FYidoctors to these laboratories to enhance optometric education at both the University of Waterloo and University of Montreal.
The FYidoctorsSummer Student Internship Program: FYidoctors clinics across Canada encourage first- and second-year students to apply for summer job positions. They can then gain firsthand experience and learn what it takes to operate a clinic and care for patients while shadowing clinic staff and eye care professionals.
Clerkships: FYidoctors hosts fourth-year students in several of our clinics as they complete their final year of Optometry school.
FYidoctors Scholars Program: FYidoctors partners with a few key US schools to fund up to $100,000 towards tuition, and expenses, while providing early career opportunities for a cohort of 3rd and 4th-year optometry students.
Future Vision Leaders Program: For students ready to jump right in, the Future Vision Leaders Program is an exciting and ambitious commitment from FYidoctors. This program aims to partner with the next generation of optometrists with patients and regions across Canada, setting them up for success in the early years of their career. Recent graduates can receive up to $100,000 in forgivable student loans through this program. It's the backing and support a new optometrist receives right out of the gate, assisting some of the financial strains post-graduation.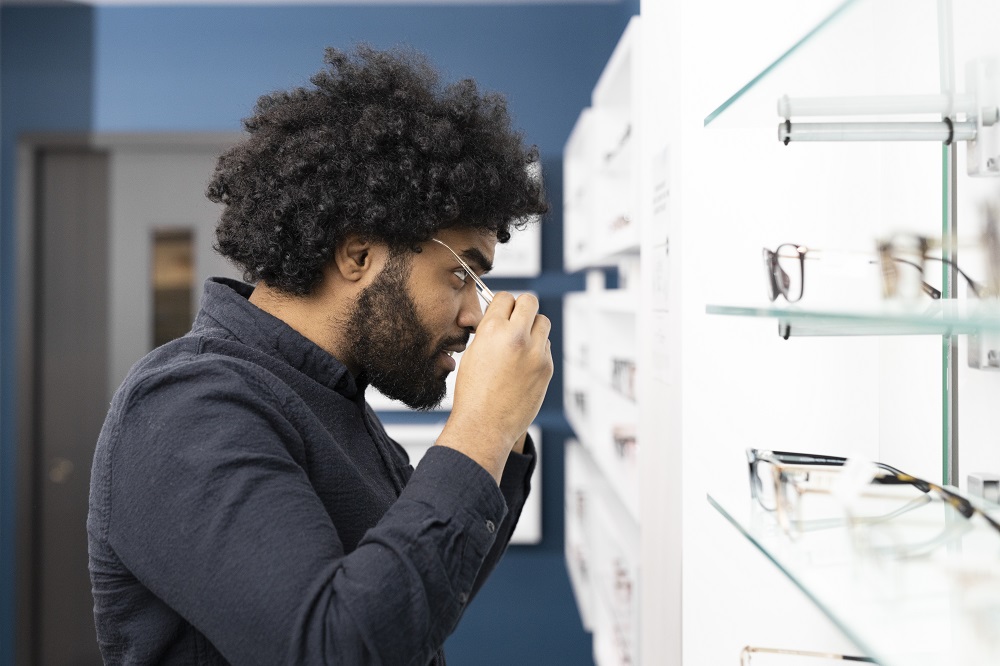 Mentorship and Continuing Education for Graduates
Learning is ongoing, which is why FYidoctors are focused on offering continuing education and mentorship opportunities for graduates of an optometry program at a Canadian academic institution. Our mentorship opportunities include shadowing an OD to ask questions and learn to handle certain realities. It also allows supporting ODs who want to implement advanced specialty eye care services.
At FYidoctors, the term Continuous Learning refers to many things, including experiential and applied learning, internal training programs, self-study modules, action learning and the chance to occasionally attend leadership conferences and seminars. FYidoctors offers self-service learning modules to continue building knowledge in areas that go beyond practicing.
Finally, there is the opportunity for Optometrists to be part of our all OD Advisory Committee that shapes clinical care in our eyecare group as well as provide a great collegial mentorship environment. Also, our charity – Enhance Life Foundation – provides many opportunities to get involved at the clinic and community level.
Sandra Blanchette Bursary
Giving back is a phrase commonly heard around FYidoctors. The Optician Association of Canada (OAC) is a bursary honouring Sandra Blanchette, a Learning and Development Specialist of FYidoctors' FYihealth group Learning and Development department. Sandra was an influential industry leader, passionate teacher, and devoted mentor. Her dedication to supporting opticians and helping future generations in the field is unparalleled. The annual bursary, valued at $1,000, is awarded to a selected student enrolled in their first semester of the NAIT Optical Sciences Eyeglasses or Contact Lens Program. Not just optometrists, but support roles and choosing to invest in the future of opticians is an essential value FYidoctors stands behind.
Whether it's opticians, optometrists, accountants, or any specialist professional, our range of programs focus on continuous learning and supporting the team member journey every step of the way!
Interested in pursuing a career at Canada's leading eye care provider? FYidoctors and Visique has numerous roles available across Canada in clinic, laboratory, and strategic support roles. Apply today!