FYidoctors Clinics Take on World Sight Day Challenge Across Canada
Today, the world's largest disability is impaired vision.
That's why FYidoctors is gearing up for Optometry Giving Sight's World Sight Day Challenge during the month of October, in celebration of World Sight Day on October 12th. Hoping to beat last year's fundraising total of $92,415.10, donations will go toward Our Children's Vision, an organization that aims to deliver vision care to 50 million children by the year 2020.
With more than 600 million people around the world suffering from blindness or vision impairment due to lack of access to eye examination and glasses, World Sight Day is more important than ever. This year, the FYidoctors goal is to raise $100,000 during the month of October.

Proud to contribute
FYidoctors has been fundraising for the World Sight Day Challenge for six years in a row. Each year, all clinics have participated in raising more than $633,731 to date. This October, FYidoctors clinics are teaming up with Visique clinics to create a coast-to-coast effort contributing to the worthy cause.
In 2017, the FYidoctors contribution of $92,415.10 brought the fundraiser total to more than $262,000 raised in Canada. In past years, FYidoctors has raised up to $100,000 for the cause.
Notable fundraising facts
• In the last four years, the FYidoctors social media Like campaign has brought in approximately $35,000
• Every year at the FYidoctors annual general meeting, a silent auction donated all funds raised to the cause
• FYidoctors has been a Double Diamond Supporter since 2013
• Last year, the clinic that raised the most was the Regina – Grasslands office, who donated $8,535.25
Just one local initiative
The FYidoctors Penticton – Marina Way clinic is just one World Sight Day fundraising success story. Last year, a donation to Optometry Giving Sight got you an entry into a draw for a chance to win tickets to a Penticton Vees hockey game – complete with a box suite and team jersey. Eleven-year-old Leigha Herman took home the prize.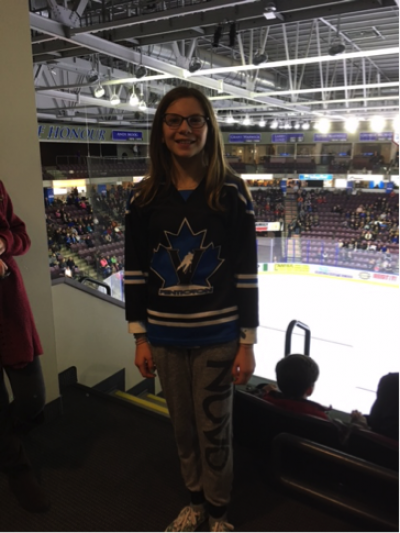 "She is wearing her new glasses [in the above photo] that she just picked up the week before and loved them," said Janelle Nunn, FYidoctors Practice Coach in Pentiction, BC. "They were the sweetest family and so appreciative."
To celebrate the win, the staff at the Penticton clinic sponsored the game Herman attended and collected gently used prescription glasses for charity. Generous donators received gift certificates for a new pair of lenses and frames at FYidoctors.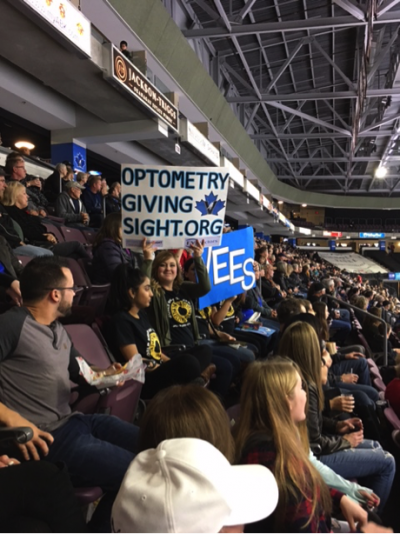 This year, the clinic is giving away prizes again. A monetary donation gets your name in the draw, or glasses donated at the Oct. 14th Penticton Vees game will get you a $150 gift certificate for a new pair of glasses.
"It's about bringing awareness and building community presence in this town," said Nunn. "It just makes sense that we would want to afford the opportunity for everyone to have an eye exam and glasses."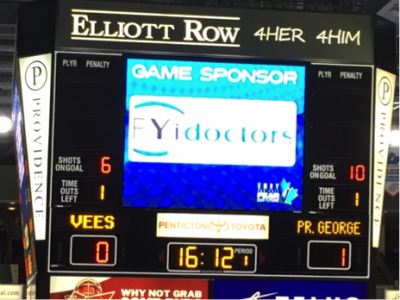 What you can do to help
Join the World Sight Day Challenge
Designed to focus global attention on blindness and vision impairment, the World Sight Day Challenge is held on the second Thursday of October each year and is supported by countless eye health charities, professionals, and organizations around the world (including Optometry Giving Sight and FYidoctors). Throughout the month, FYidoctors is donating $1 to Optometry Giving Sight for every new page like on Facebook or follow on Twitter (up to a maximum of $10,000).
Donate to Optometry Giving Sight
Optometry Giving Sight currently runs numerous programs to train local optometrists, build new eye care centres, and offer complete exams and eyeglasses to those in need. Here are just a few of the ways your donation dollars can help:
• $25 can provide five people with vision through eye exams and glasses
• $100 can provide screening for school children in a local community
• $300 can purchase a single "trial frame," a type of prescription lens that patients wear to help determine any refractive errors
To make a single, monthly, or annual donation to Optometry Giving Sight, visit their site.
Promote Optometry Giving Sight
For charities such as Optometry Giving Sight, simply spreading the word is crucial to their success. To help promote this worthwhile charity and their efforts to stop vision impairment and blindness, share this blog post on Facebook, tweet about your donation, or tell your friends and family about your support.
Vision is one of the most important gifts we have. To date, Optometry Giving Sight has funded 97 projects in 39 countries. Your support makes a difference by giving disadvantaged individuals the chance to see the things that matter most.